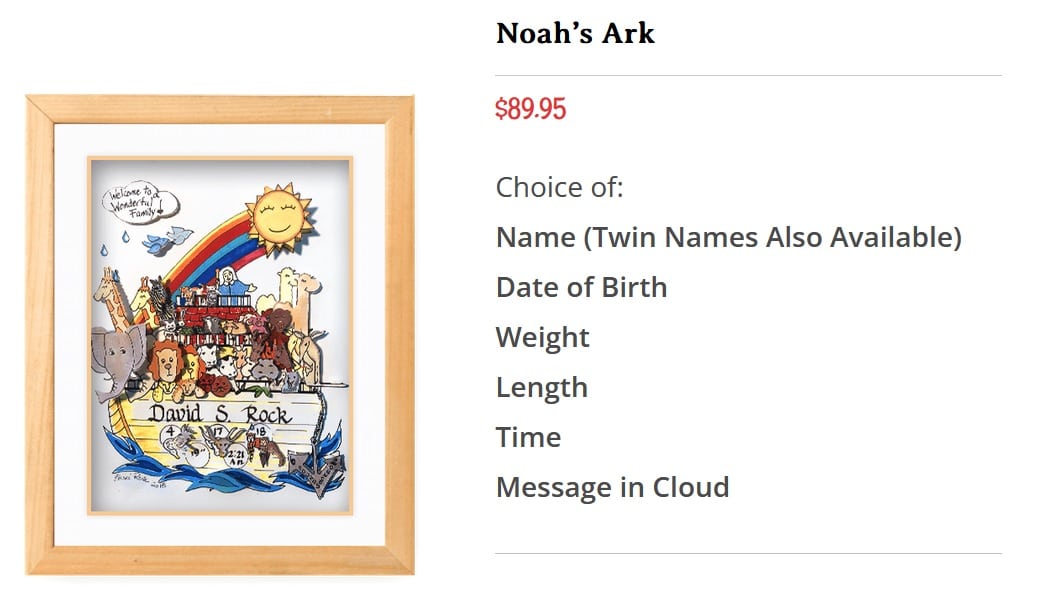 Looking for a one-of-a-kind gift for a newborn twins? HappyHangUps.com natural wood framed Noah's Ark artwork is just what you need! Handcrafted with love, it features personalized details that will make it a treasured keepsake for years to come. 🐘🌞 #PersonalizedNoahsArk #NewbornGifts
Are you searching for a truly special gift for newborn twins that will make the hearts of their parents sail with joy? Look no further! HappyHangUps.com natural wood framed Noah's Ark artwork is the perfect choice to celebrate the arrival of these little miracles. Handcrafted with love, this personalized masterpiece will become a treasured keepsake, cherished by the twins for years to come.
Imagine the parents' delight as they unwrap this thoughtful present, eyes lighting up at the sight of their precious little one's birth details immortalized in a charming Noah's Ark scene. Every detail of this artwork is meticulously personalized, making it an exclusive and remarkable memento. From the gentle pairs of animals to the radiant sun shining above, each little expression and element holds a deeper meaning.
The natural wood frame adds a touch of elegance, exuding a warmth and organic charm that perfectly symbolizes the beauty and purity of the newborns. Crafted by a skilled artisan, this artwork goes beyond its aesthetically pleasing design; it embodies the care and dedication of those who crafted it, ensuring a quality that will withstand the test of time.
Why settle for ordinary when you can bless the twins with something extraordinary? HappyHangUps.com Noah's Ark artwork is a symbol of hope, protection, and a bright future. Its whimsical yet timeless design will grow and evolve alongside the twins, serving as a reminder of their journey through life and the love that envelops them.
Each time the parents gaze upon this personalized masterpiece adorning their nursery wall, they will be reminded of your thoughtfulness and the genuine love shared for their little ones. Every vibrant color, and choice made in creating this artwork is a testament to your dedication in finding a gift that truly resonates.
In a world full of generic baby items, why not give something that stands out the way these precious twins do? Happy Hang-Ups personalized Noah's Ark artwork is more than just a gift; it is a heartwarming gesture bound to forge everlasting memories. Let this exceptional piece become an integral part of their lives, a visual reminder of the love that surrounds them.
So, next time you search for a gift for newborn twins, remember that your choice carries great significance. Choose something that encapsulates the magic of their arrival, their unique journey, and the love that bonds them. Choose HappyHangUps.com personalized Noah's Ark artwork and give a gift that sails straight into their hearts.
PersonalizedNoahsArk #NewbornGifts 🐘🌞