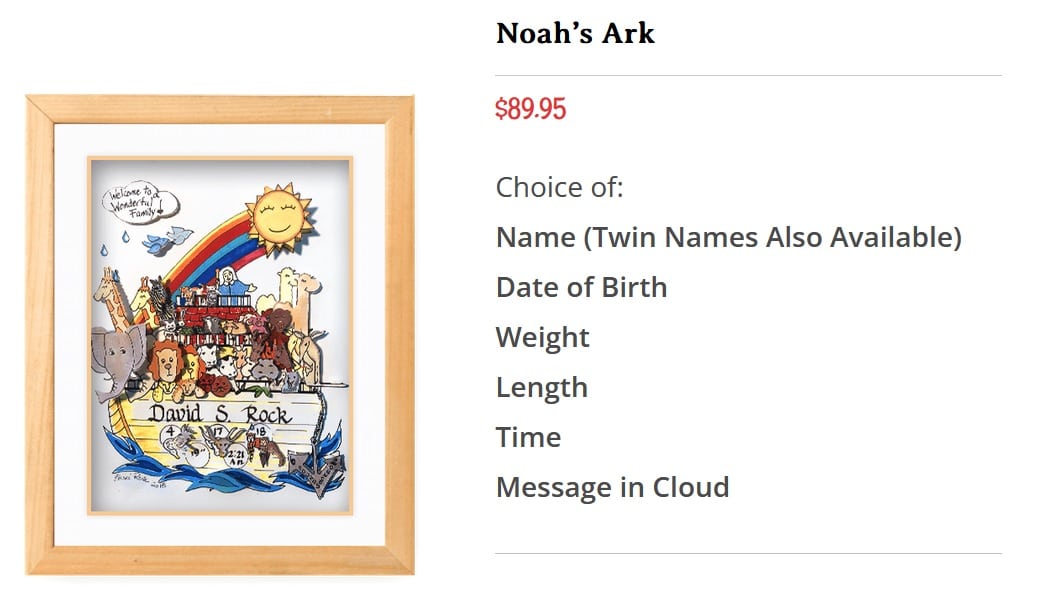 Double the joy, double the love! Twins! Personalized Noah's Ark is a treasured newborn gift made for twins. 🐘🦁🐢🌈 Add their names, birth details, and your special message to create a gift they'll cherish forever. #TwinGifts #NoahsArk
Hi there! Are you ready to delve into a heartwarming story that highlights the perfect gift for twins? Join HappyHangUps.com as we share our delightful testimonial encapsulating the essence of Happy Hang-Ups popular choice for a Twin Gift – a personalized Noah's Ark. Witness the extraordinary bond twins share and how this beautiful artwork became a cherished keepsake for two special souls.
This is a First Birthday Story, also an excellent newborn arrival gift:
Once upon a time, in a world filled with love and happiness, two precious twins came into existence. Their arrival was met with unmeasurable joy and excitement, and their parents, couldn't wait to shower them with love and memorable gifts.
As the twins' first birthday approached, their parents desired a gift that would encapsulate their unique voyage and forever remind them of the love surrounding their birth. They scoured the internet, searching for something extraordinary and meaningful. That's when they stumbled upon HappyHangups.com personalized Noah's Ark artwork.
Captivated by the vibrant colors and enchanting animals adorned on the artwork, the twins' parents knew they had discovered something truly special. Adding their twins' names, birth details, and a heartwarming message, they created a personalized masterpiece that would symbolize their children's bond.
Little did they know that this personalized artwork would become an integral part of their daily lives. Hanging on the wall of their playroom, it would become a source of inspiration and love, sparking their imagination. As the twins grew older, this cherished artwork would serve as a reminder of their unconditional love and the unwavering bond they shared.
Not only did the Noah's Ark artwork bring immeasurable joy to the twins, but it also became a conversation starter for visitors. Grandparents, friends, and loved ones all marveled at the masterpiece, and the twins' parents took immense pride in proudly sharing the story behind it. The artwork became a symbol of hope, love, and the magical voyage that twins embarked upon together.
Let this heartfelt testimonial serve as a testament to the remarkable beauty and significance of HappyHangups.com personalized Noah's Ark artwork. If you're seeking a gift that encapsulates the unique bond between twins, look no further. By adding their names, birth details, and a special message, you can create a one-of-a-kind keepsake to be cherished for a lifetime.
So, go ahead and double the joy, double the love! Explore HappyHangups.com exceptional collection, as their personalized Noah's Ark artwork awaits, ready to touch the hearts of twins worldwide. Remember, it's not just a gift; it's a timeless treasure that captures the essence of an extraordinary bond. #TwinGifts #NoahsArk