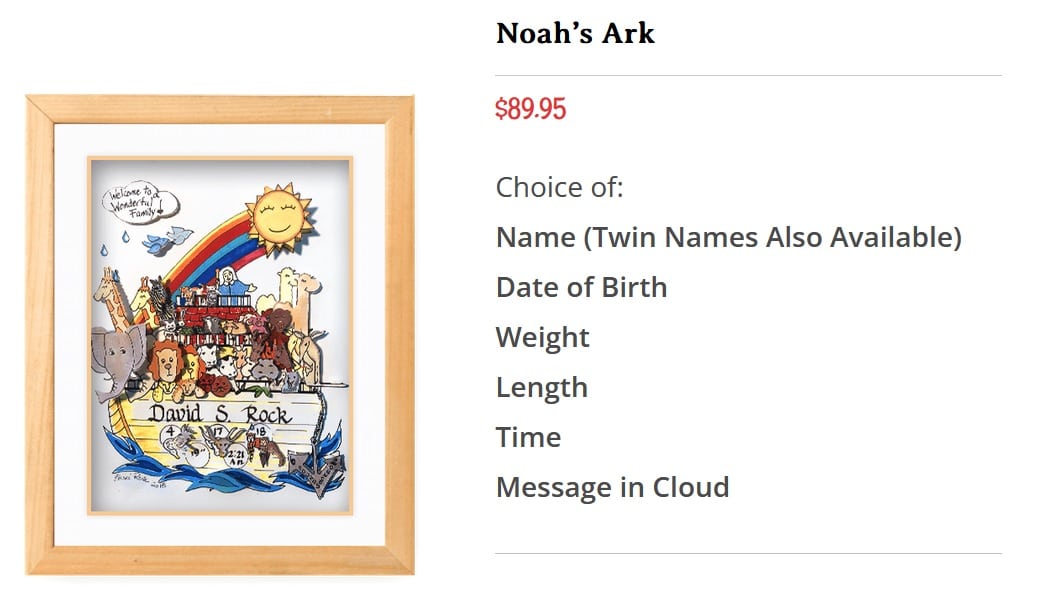 🎁💖 Celebrate the little one's arrival with HappyHangUps.com natural wood framed 3D artwork of Noah's Ark! This personalized newborn gift is a true work of art that can be customized with the baby's name, birth details, and your special greeting. With its vibrant colors and adorable animals, it'll add a touch of magic to any nursery. 🌈🐻 #NoahsArkPersonalizedArt #BeautifulKeepsake
There's something enchanting about the arrival of a newborn baby, isn't there? The sleepless nights, endless diaper changes, and tiny toes–all reminders of the immense joy and love that fills our hearts. As friends and family, we strive to find the perfect gift that captures the essence of this beautiful occasion. HappyHangUps.com offers a timeless treasure that will not only capture your heart but will also add a touch of magic to any nursery.
Introducing the natural wood framed 3D artwork of Noah's Ark — a personalized newborn gift that exudes pure artistry and beauty. With its detailed designs, vibrant colors, and adorable animals, this piece goes beyond being just another nursery decoration. It is a true work of art that bears witness to the special moments in a child's life.
Imagine this: nestled on a nursery wall, the personalized Noah's Ark artwork serves as a constant reminder of the day your little one entered this world. Customizable to include the baby's name, birth details, and your heartfelt greeting, it becomes a cherished memento capturing these precious first memories. Every detail depicts the uniqueness of your child's voyage, transforming it into an heirloom that will be passed down through generations.
Dive into the stunning symphony of colors that adorn this piece, where each hue signifies hope, joy, and endless possibilities. With its vibrant and lively coloring, the Noah's Ark art creates an immersive environment for the little one's imagination to soar high. From the cheerful animals to the smiling sun, this artwork introduces your child to a world teeming with wonder and magic.
But don't just take HappyHangUps.com word for it; let the joyous testimonies of countless families affirm the art's transformative power. With each attention to detail, a piece of their own love story comes to life. These families share that the Noah's Ark personalized art has not only become an emblem of their child's precious existence but has also instilled warmth, hope, and a sense of belonging within their homes.
Whether you are a proud parent seeking that perfect nursery statement or a loved one hoping to gift something truly unique and poetic, Happy Hang-Ups Noah's Ark personalized art is the embodiment of the love, care, and devotion that surrounds this miraculous occasion. It celebrates the spirit of family, friendship, and the promise of a future filled with endless adventures.
So, embrace the magic that surrounds us and commemorate the arrival of that special someone with a true masterpiece, a testament to love and the beauty of life itself. Let the HappyHangUps.com Noah's Ark personalized art create a cherished keepsake that will forever hold a place in your hearts and illuminate the path for generations to come.
🌈🐻 #NoahsArkPersonalizedArt #BeautifulKeepsake