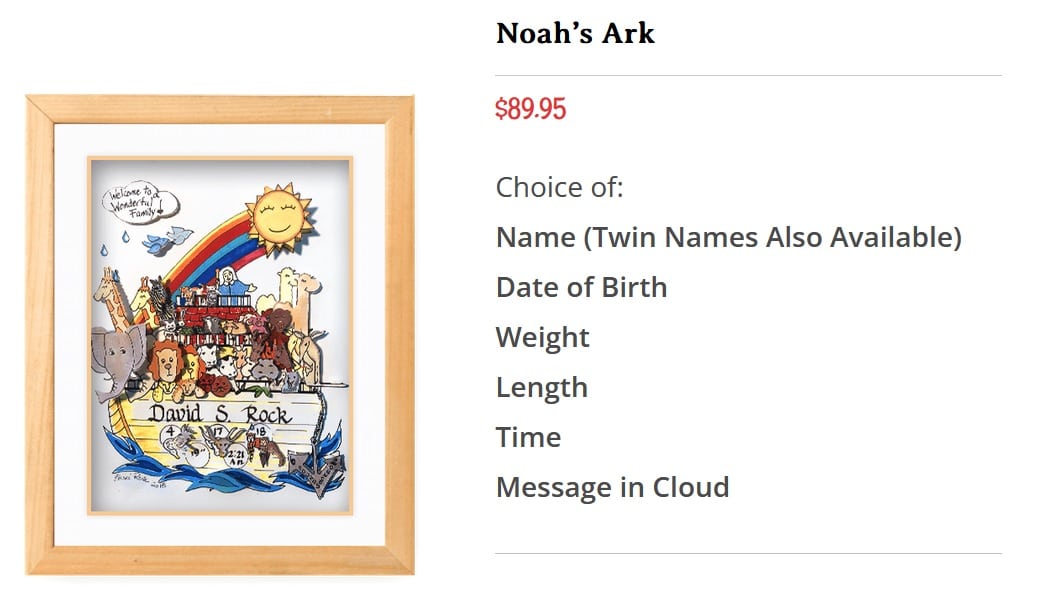 🌟 Searching for a unique and meaningful gift for a newborn? HappyHangUps.com natural wood framed 3D artwork of Noah's Ark is the perfect choice. With its colorful animal pairs, personalized details, and your heartfelt greeting, it captures the joy and excitement of a new baby's arrival. Make their nursery shine with this personalized masterpiece! 🚢✨ #PersonalizedNoahsArk #PerfectNewbornGift
HappyHangUps.com suggests The Perfect Newborn Gift: A Testament to Enduring Memories
Are you tired of browsing through countless baby gift options, struggling to find a truly unique and treasured present? I was too, until I stumbled upon the perfect newborn gift that not only stole my heart but also brought a wealth of joy and excitement to the parents. Let me introduce you to the captivating world of HappyHangUps.com personalized Noah's Ark artwork – a true masterpiece!
When I first came across this stunning piece, I couldn't help but be drawn to its natural wood frame and vibrant colors. The 3D artwork of Noah's Ark is beautifully handcrafted, bringing the timeless story to life in a way that captures both the innocence of childhood and the hope for a bright future. It's simply mesmerizing.
One feature that truly sets this personalized artwork apart is the ability to customize it with the newborn's details. Imagine the parents' delight when they see their little one's name, date of birth, and a heartfelt greeting seamlessly integrated into the artwork. Perfect gift for twins – the animals arrived in pairs. It transforms an already beautiful piece into an unforgettable memento of their baby's arrival, one that will be cherished for a lifetime.
As I contemplated its potential gift-giving power, I realized that this personalized Noah's Ark artwork is not just a decoration; it's an expression of love and thoughtfulness. It encompasses the wishes and dreams we have for the newborn's future. It is a symbol of protection, love, and hope, just like the story of Noah's Ark itself.
What makes this HappyHangUps.com gift even more special is the nursery transformation it offers. With its vibrant colors and engaging design, this personalized masterpiece adds a touch of whimsy and personality to any nursery. It becomes a focal point, sparking the imagination of both child and parent. It brings a sense of joy and enchantment that is truly priceless.
When I gave this personalized Noah's Ark artwork to my friends, who had recently welcomed their little bundle of joy, their reaction was beyond words. The tears of joy, the heartfelt thank yous, and the understanding that this gift was not like anything they had received before, affirmed my belief in its magic. It became a lasting reminder of the love surrounding their baby's arrival, something they could pass down through generations.
So, if you find yourself searching for that one-of-a-kind gift for a newborn, look no further. HappyHangUps.com natural wood framed 3D artwork of Noah's Ark is the embodiment of love, dreams, and celebration. It creates lasting memories and ensures that the new baby's nursery shines with a personalized masterpiece that will leave everyone in awe.
Bring the joy and excitement of a new baby's arrival to life with this unforgettable gift. Let this HappyHangUps.com personalized Noah's Ark artwork be the symbol of hope and the testament to enduring memories for years to come. Don't just give a gift; give a treasured heirloom that will forever remind them of the beautiful journey they embarked upon with their newborn.
🌟 #PersonalizedNoahsArk – The Perfect Choice for a Unique and Meaningful Newborn Gift! 🚢✨