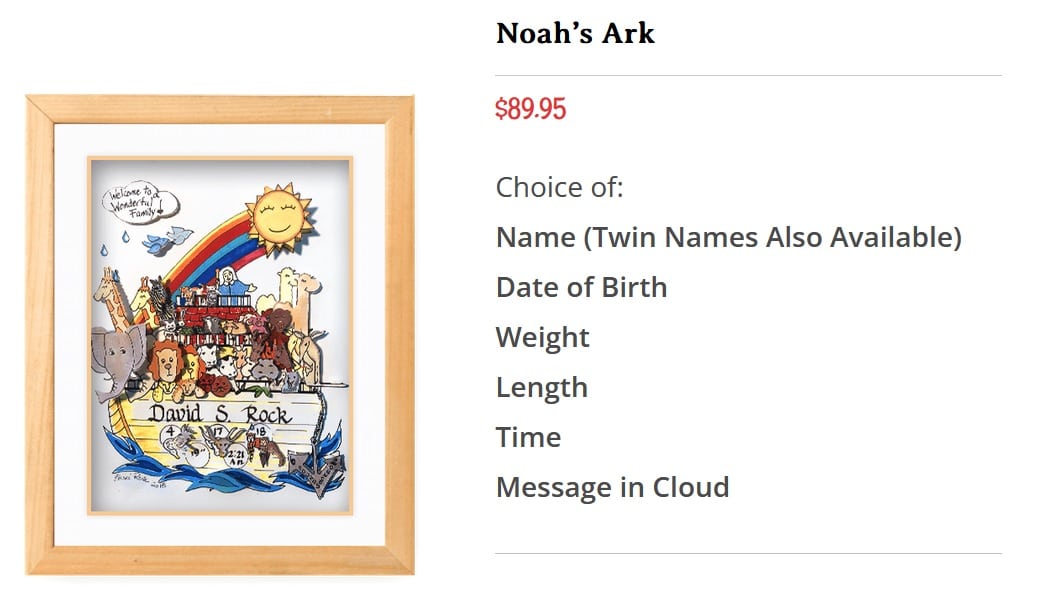 🌟🐘 Bring the story of Noah's Ark to life with HappyHangUps.com natural wood framed 3D artwork! This personalized newborn gift showcases colorful animal pairs and a smiling sun, creating a captivating scene for the baby's nursery. Make it extra special by customizing it with their name, birth details, and a personal message from the heart. 🚢💛 #PersonalizedNoahsArkArt #CaptivatingNurseryDecor
Transform Your Baby's Nursery with a HappyhangUps.com Personalized Noah's Ark Artwork
Are you searching for the perfect gift to decorate your baby's nursery? Happy Hang-Ups natural wood framed 3D artwork brings the enchanting tale of Noah's Ark to life, offering a captivating theme for your little one's sanctuary. This personalized newborn gift not only showcases colorful animal pairs and a smiling sun but also allows you to customize it with your baby's name, birth details, and a heartfelt message. Get ready to embark on a voyage of imagination and create a truly unique and personalized space for your precious miracle.
A Timeless Tale Brought to Life:
The story of Noah's Ark has captured the hearts of millions for centuries. Now, imagine being able to bring this age-old tale to life in your baby's nursery! HappyHangUps.com personalized Noah's Ark artwork creates an unforgettable scene that will captivate both children and adults alike. As your little one grows, they will be fascinated by the animal pairs, imagining themselves sailing the seas with Noah, just like in the storybooks.
Customization for a Personal Touch:
We understand that every baby is unique and special in their own way. That's why HappyHangUps.com Noah's Ark artwork is fully customizable. Add your baby or twins' names, birth details, and a personal message to celebrate their arrival. This personal touch not only makes the artwork one-of-a-kind but also serves as a lasting reminder of those precious early moments. Your baby will grow up surrounded by the love and warmth you poured into their nursery.
Enhance the Nursery's Aesthetics:
A baby's nursery is a sacred space where parents create a haven of love, comfort, and imagination. HappyHangUps.com personalized Noah's Ark artwork acts as a focal point that ties the entire room together, adding a touch of fun and whimsy. The vibrant colors and intricate 3D design of the animals and the sun will engage your little one's curiosity and imagination, fostering a sense of wonder and creativity from an early age.
Thoughtful and Memorable Gift:
If you are searching for a truly meaningful and thoughtful gift, Happy Hang-Ups personalized Noah's Ark artwork is the way to go. It is not just a decoration; it is a cherished keepsake that symbolizes the beginning of a new life's voyage. As your baby grows, they will feel the love and joy you poured into their nursery, creating a lasting bond between parent and child.
Unique gift for newborn twins, order now!
Make your baby's nursery truly special with HappyHangUps.com personalized Noah's Ark artwork. Transport your little one into a world of imagination, as they embark on a magical journey with Noah and his animal friends. This captivating piece of decor, complete with its natural wood frame, vibrant colors, and customizable details, will serve as a cherished reminder of the love and warmth that encapsulate your baby's early days. Invest in creating a captivating and unique environment that will nurture and inspire your child for years to come. #PersonalizedNoahsArkArt #CaptivatingNurseryDecor