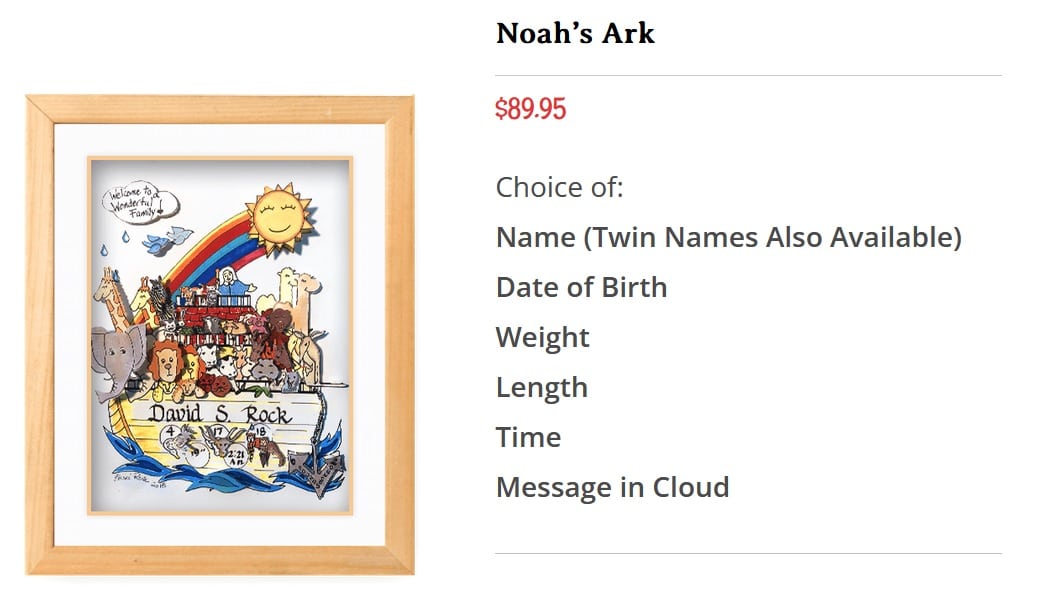 Creating a warm and inviting nursery space for our little ones is a dream shared by every loving parent. As we embark on this voyage of parenthood, we strive to surround our babies with the utmost love, care, and a touch of personalization that reflects our unique bond. What if we told you that there is a perfect way to brighten up your nursery while preserving memories from the very start? Introducing HappyHangUps.com joyful natural wood framed 3D artwork of Noah's Ark! This vibrant piece offers not only an exquisite decor item but is also a treasured newborn keepsake.
Preserving Memories:
From the moment our bundles of joy arrive in this world, every milestone becomes precious to us. Imagine gazing at the nursery wall, adorned with a personalized Noah's Ark, which not only reminds us of the innocence and magic of childhood but also preserves the special memories associated with their arrival. By personalizing the artwork with your baby's name, birth details, and a heartwarming greeting, you create a treasured infant keepsake that will grow with them throughout the years, becoming a cherished part of their memories.
Aesthetically Pleasing:
The nursery is a sacred space where we create an ambiance of love and tranquility. HappyHangUps.com natural wood framed 3D artwork of Noah's Ark harmonizes effortlessly with any nursery theme, creating an aesthetic masterpiece that adds a touch of sophistication and warmth. The vibrant colors and stunning craftsmanship of this piece make it an eye-catching focal point, delighting both parents and babies alike. Its presence will not only brighten up the nursery but also stimulate your little one's imagination.
Personalization for Intimacy:
Nothing says "special" newborn baby gift like personalization. By adding your baby's name, birth details, and a heartwarming greeting to the Noah's Ark artwork, you create an intimate connection between your little one and their personal sanctuary. The warmth and love emanating from this personalized keepsake will surround your baby, creating a sense of security, belonging, and ultimately, a stronger bond within your growing family.
Perfect Gift:
Choosing the perfect gift for newborns and growing families can be quite challenging. However, HappyHangups.com personalized Noah's Ark decor solves this dilemma, making it the ideal present to celebrate the arrival of a precious little bundle of joy. Whether you are an adoring grandparent, a friend looking to commemorate a special occasion, or a parent seeking a timeless treasure for your own nursery, this exceptional artwork will undoubtedly bring tears of joy to the recipient's eyes.
Customize for Twins who like the animals arrived two by two:
Happy Hang-Ups stunning natural wood framed 3D artwork of Noah's Ark is not just an ordinary decor item; it is a testament to the love, care, and personal touch we infuse into your baby's nursery. By choosing this vibrant and personalized keepsake, you invest in creating a sacred sanctuary where memories are celebrated, aesthetics are ignited, and an unbreakable bond is forged.
Order Now! Brighten up your nursery and embark on this beautiful journey of parenthood with our Noah's Ark decor — customized with your baby or twins' names, date of birth, weight, length, and time of birth.
NoahsArkDecor #PersonalizedBabyKeepsake
A Timeless Treasure for Your Little One's Nursery – HappyHangUps.com Personalized Noah's Ark Decor