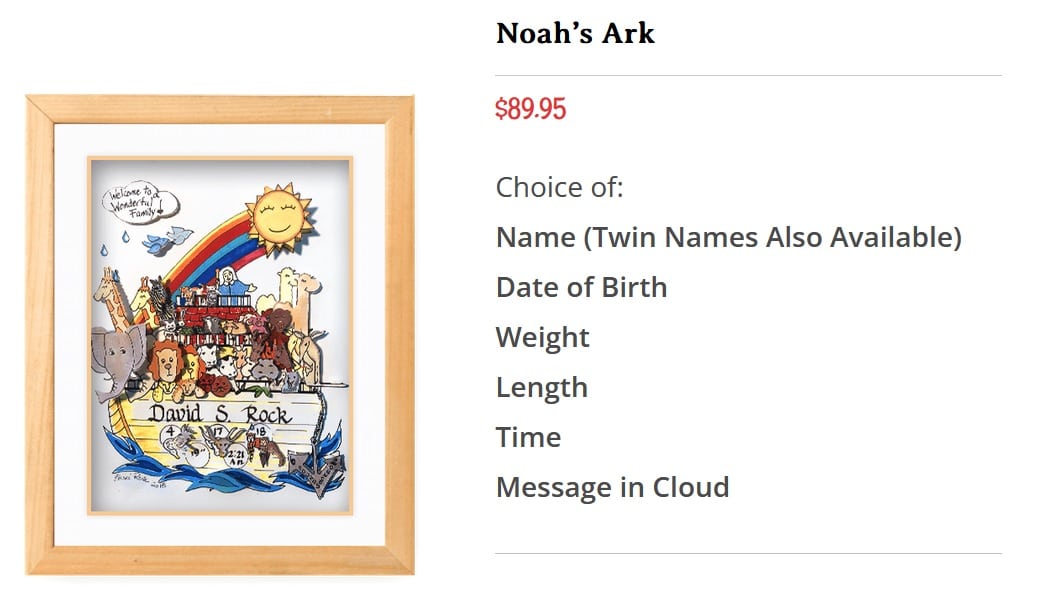 🐾🌞 Double the joy, Double the love! Our personalized Noah's Ark artwork can also be made for twins. 🐘🦁🐢🌈 Add their names, birth details, and your special message to create a gift they'll cherish forever. #TwinGifts #NoahsArk
HappyHangUps.com is excited to share with you our popular creation – Noah's Ark! This personalized baby gift is a delightful and heartfelt way to welcome the newest addition to your family or shower a loved one with a truly special keepsake.
Handcrafted with love, Noah's Ark features a natural wood framed 3-dimensional artwork that depicts the classic biblical story with vibrant, colorful pairs of animals and a smiling sun. But what sets it apart is the ability to customize it with the baby's name, date of birth, weight, and length, creating an heirloom that will be treasured for a lifetime.
And that's not all – Noah's Ark can also be tailored for twins, making it an ideal gift for multiple blessings. With the personalized touch and attention to detail, you can express your love and warm wishes in the most touching way possible.
Don't wait to celebrate the arrival of a precious little one in a truly remarkable way. Order your very own Noah's Ark, the order form is below. We guarantee a hassle-free and secure shopping experience, with quick delivery right to your doorstep.
Thank you for choosing Happy Hang-Ups to help you honor life's milestones and create lasting memories. We look forward to being a part of your special moments.
Double the joy, Double the love! Happy Hang-Ups Noah's Ark – The Perfect Personalized Baby Gift!