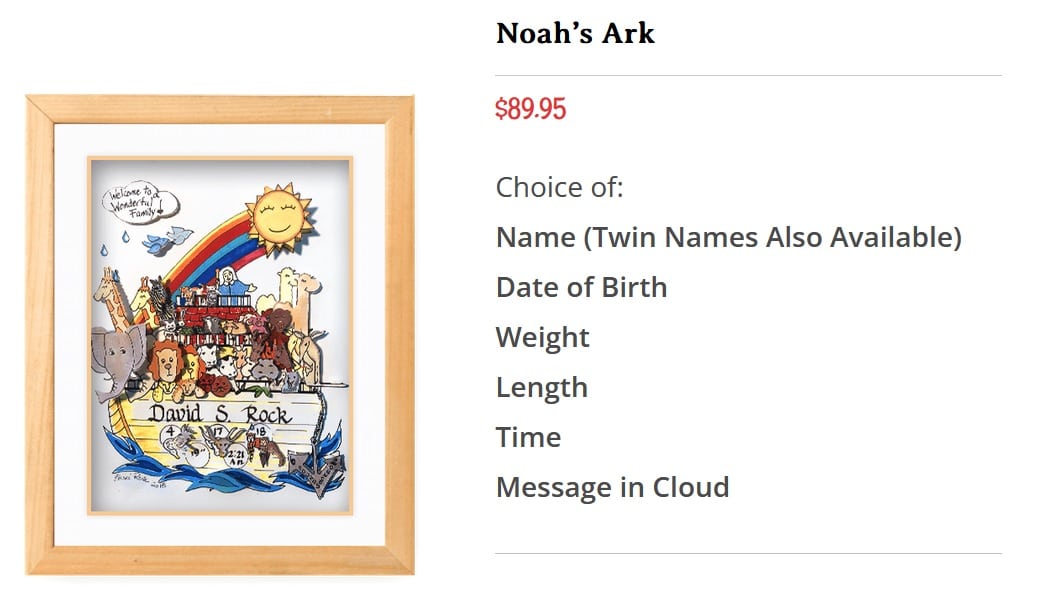 You've arrived at the HappyHangups online store, where we specialize in creating unique and sentimental gifts for the people in your life. If you're looking for an extraordinary present to celebrate the arrival of a newborn, you've come to the right place. Our natural wood framed, 3D colorful artwork of Noah's Ark is a truly one-of-a-kind keepsake that will be cherished for a lifetime.
What sets our artwork apart is its exquisite craftsmanship and personalization options. Each piece features a vibrant depiction of Noah's Ark, complete with colorful pairs of animals and a smiling sun. But what truly makes it special is the ability to customize it with the baby's name, date of birth, weight, length, time of birth, and your personalized gift greeting. This ensures that your gift is not only beautiful but also meaningful and tailor-made to commemorate the little one's entrance into the world. If your baby is part of a pair, you can add the twin's name too!
Whether you're a doting grandparent, a loving aunt or uncle, or a thoughtful friend, our personalized 3D Noah's Ark Artwork is the ideal choice for a newborn baby gift. It encompasses the essence of joy, innocence, and the miracle of life, making it a perfect addition to any nursery decor.
Proud Parents: Celebrate the birth of your child with a unique and personalized masterpiece that can be passed down through generations.
Loving Relatives: Show your adoration and support for your new niece, nephew, or grandchild by gifting them something extraordinary that will be cherished forever.
Thoughtful Friends: Make a lasting impression by presenting the new parents with an artwork that not only captures the essence of a newborn's arrival but also reflects your genuine love and care.
Baby Shower Attendees: Stand out from the crowd and surprise the expecting parents with a gift that will leave them speechless and touched.
By choosing our personalized Noah's Ark artwork, you will not only delight and impress the lucky recipients but also stand out from the crowd with a truly unique and meaningful gift. Don't settle for ordinary; give a gift that will be cherished for a lifetime.
Your search for the perfect present ends here. Order NOW! and create a lasting memory for the newborn and their family.