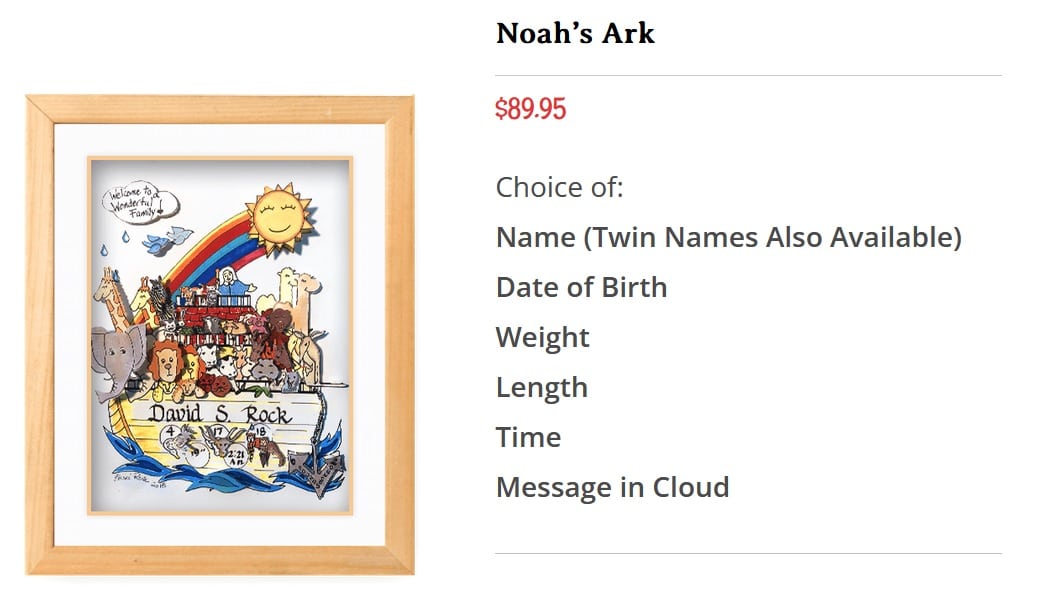 🌈💕 Looking for a heartfelt gift for twins? HappyHangUps.com natural wood framed 3D artwork of Noah's Ark is the perfect choice! With its vibrant colors and adorable animals, it'll brighten up their nursery while celebrating their unique bond. Personalize it with their names, birth details, and a sweet message for each twin. Double the love, double the joy! 🐇🐢 #GiftsForTwins #PersonalizedNoahsArk
Double the Love, Double the Joy: A Heartfelt Gift for Twins
When my sister gave birth to her twin boys, my heart swelled with an indescribable joy. As an aunt, it became my mission to find a gift that would truly capture the love and connection between these two little miracles. That's when I stumbled upon the perfect gift at HappyHangUps.com – a personalized 3D artwork of Noah's Ark.
The moment I saw the vibrant colors and adorable animals in this masterpiece, I knew it would be a delightful addition to their nursery. Twins deserve something unique, a symbol that cherishes their bond, and this artwork accomplished just that.
The custom details in the HappyHangUps.com artwork is astounding. From the giraffes to the lions to the smiling sun, each element is vibrantly crafted and adds a touch of whimsy to the decor. The personalized touch was the cherry on top. With their names, birth details, and a sweet message for the twins, the artwork became a cherished keepsake that will forever remind them of the love they share.
But it wasn't just the aesthetics that impressed me; it was the deeper meaning behind the artwork. Noah's Ark is a timeless tale of hope, resilience, and the power of unity. What better way to celebrate the incredible voyage these twins have embarked on together?
Every time my sister gazes at the artwork, she is reminded of the double blessing she has been bestowed. The vibrant colors serve as a reminder of the vibrant personalities of her two little boys, while the adorable animals embody the playfulness and joy that fills their days.
Not only did this gift bring smiles to their faces, but it also became a conversation starter and a source of admiration from guests who visited their nursery. Friends and family couldn't help but marvel at the intricate details and the thought that went into personalizing it.
In a world that often feels chaotic and overwhelming, Happy Hang-Ups 3D artwork of Noah's Ark was a constant reminder of the joy and love that twins bring to our lives. It serves as a beacon of hope and a testament to the strength of their bond.
So, if you're searching for a heartfelt gift for twins that goes beyond the ordinary, look no further. HappyHangUps.com natural wood framed 3D artwork of Noah's Ark will not only brighten up their nursery but also symbolize the unique love and connection that only twins share.
Let this beautiful piece of art be a reminder that with double the love, joy is multiplied. Celebrate their individuality while rejoicing in their shared voyage. Order yours today and witness the magic it brings to the lives of those extraordinary twins.
🌈💕 #GiftsForTwins #PersonalizedNoahsArk